A creative toolkit for architects and designers
Monoceros is a legendary animal living in the huge mountains in the interior of India. Monoceros has the body of a horse, the head of a stag, the feet of an elephant and the tail of a boar.
Monoceros is also a suite of tools for optimally occupying an Envelope with discrete Modules, where the spatial relationship between those Modules can be constrained by a set of user-defined Rules. By using the Wave Function Collapse algorithm, it provides an innovative and fast solution to the emerging architectural problem of Discrete aggregation for purposes of design, architecture and urban planning. Monoceros is a plug-in for Rhino / Grasshopper created at studio Subdigital by Ján Tóth and Ján Pernecký, and is available to download for free.
With Monoceros you can
design discrete aggregates in Grasshopper
distribute modules in a meaningful way
fill envelopes without gaps
automatically set up your project
design by showing examples
have full control of data and assembly
interfere with the solver
analyze the result in real time
combine Monoceros with other plug-ins
Monoceros consists of
software plug-in for Grasshopper
fast Wave Function Collapse engine
design method
Monoceros book
extensive user manual
university and workshop teaching
internship program
material prototyping
Monoceros is perfect for
architecture
pavilion design
functional pattern design
design for digital fabrication
product design
urban planning
game asset design
What is Discrete aggregation
Discrete aggregation is one of the hottest approaches of computational design, along with the emergent swarm intelligence and AI. It recognizes small distinct parts that can be assembled into larger aggregates according to certain requirements. The parts are often represented by material components assembled using connectors. Most prominent discrete approaches are voxelization, discrete growth and constraint modeling, such as Wave Function Collapse.
Discrete approach benefits from breaking down the problem into small parts. The parts are often represented by real physical components with real physical connectors. That allows to combine prefabrication with computational design, which is approachable with the current conventional technology. Discrete aggregates also scale well, so it is easy to prototype a small sculpture, scale up to a pavilion and eventually produce a large installation.
What is Wave Function Collapse
Monoceros is an implementation of the Wave Function Collapse (WFC) algorithm developed for game design by Maxim Gumin and extended and promoted by Oskar Stålberg with his game Townscaper.
WFC is an algorithm that fills an entire spatial envelope with Modules in a meaningful way. The envelope is divided into discrete box-like Slots. The algorithm selects and places Modules into the Slots, making sure any two placed Modules can become neighbors (do have a common connector) according to specified Rules.
WFC is not a growth algorithm – it always generates a complete valid aggregate (or no solution at all), leaving no Slots empty. It has important implications for design, architecture and urban planning: the aggregates are not branching, but create rhizomatic structures, there is no overlapping, there are no untreated areas.
It also requires a certain sensitivity and usage strategies, which makes WFC and Monoceros a methodology rather than just a tool. It can be used for projects of various scales and types and the use can be partial and shallow as well as thorough and informed. It is a great approach to materialize big data distributed in space into meaningful volumetric assemblies.
Monoceros Workshop
Organized by arx.ace on 27th – 30th May 2021
Arx.ace presents the first comprehensive workshop on Monoceros taught by its makers from Subdigital.
In 4 days of lectures and hands-on exercises, you will be introduced to the wider architectural context, explained the basics, guided through real-life examples and revealed advanced concepts of a controlled discrete assembly. A week after the main workshop you can discuss and troubleshoot your individual Monoceros project with the workshop tutors. In another week you will present your personal project in front of a renowned jury and receive a signed certificate. The entirely online workshop will take place in the virtual environment of Gather town and will consists of lectures, tutorials, demonstrations, individual consulting, exhibitions, networking and parties.
The workshop will be held in English and is suitable for advanced Grasshopper users. All applicants will receive a free access to arx.ace (formerly rese arch) Grasshopper Essential tutorials, therefore also Grasshopper newcomers can apply.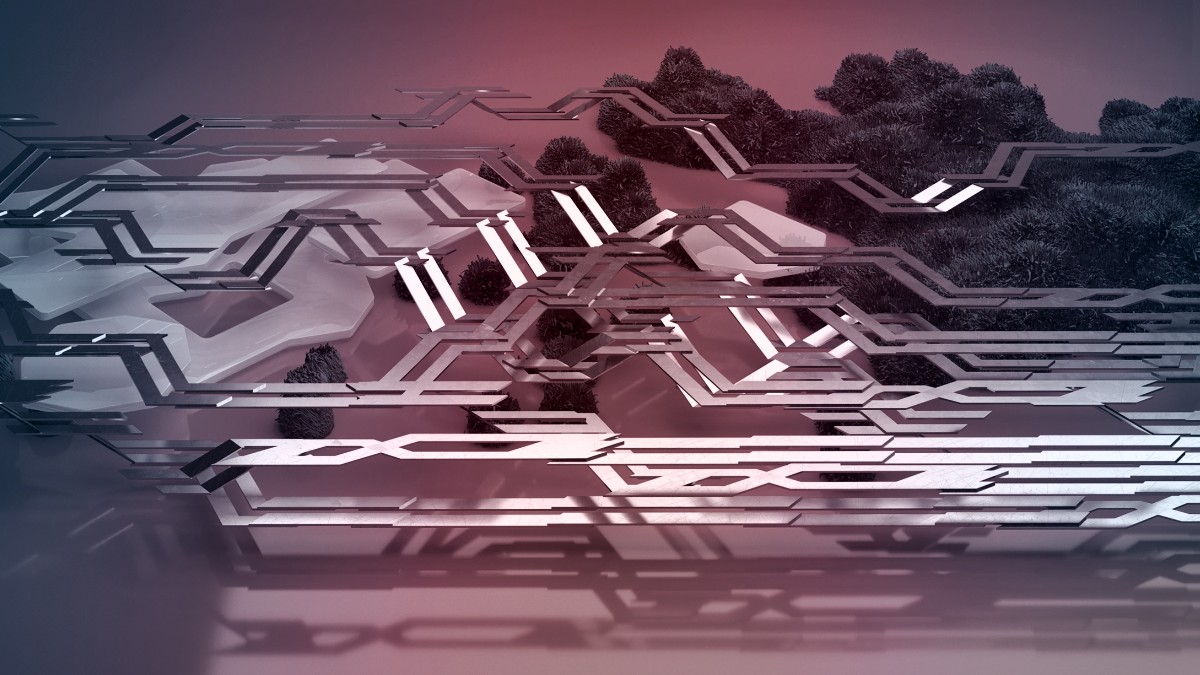 Monoceros Book
Wave Function Collapse for architecture
Project Monoceros implements the Wave Function Collapse algorithm for purposes of architecture, urban planning and product design.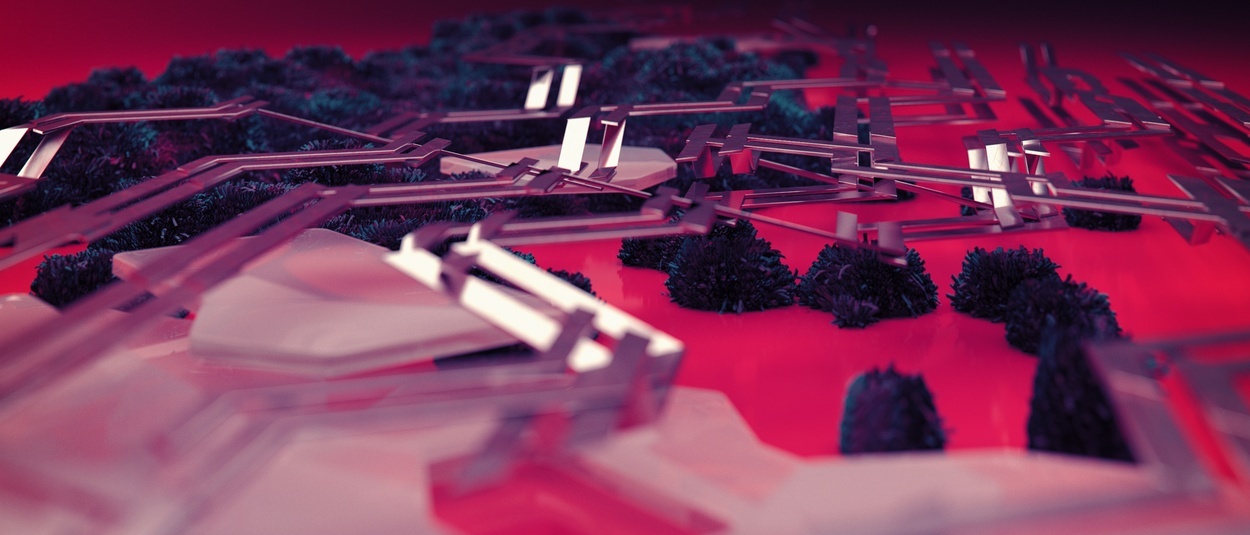 Download
Get and Install Monoceros
Download and install Monoceros for Grasshopper/Rhino 3D.


User manual
Read Monoceros documentation
A thorough description of Monoceros, its internal architecture, data types, functions and Grasshopper components. The documentation contains a context explanation, examples with images and Grasshopper files, use cases and FAQs.
Source code
Review, request a pull, fork
The entire source code of Monoceros is open and documented.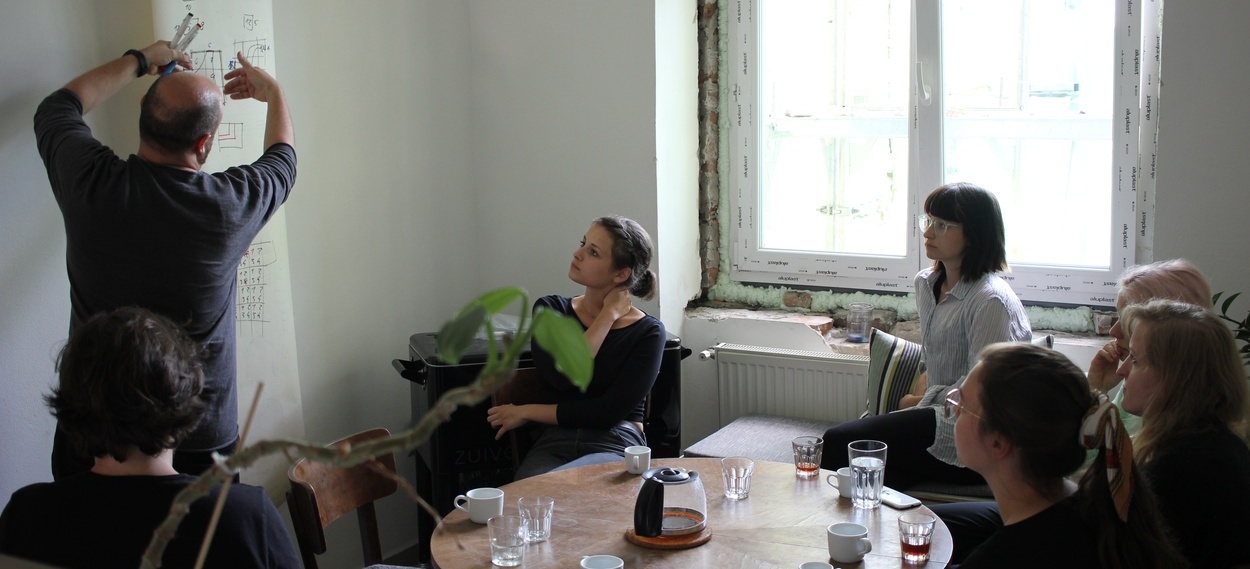 We are
the Subdigital team
In Subdigital we embrace the power of computation to create architecture, design and art. We produce sophisticated material objects that embody our clients' vision.
Material morphologies
by Tomáš Tholt & Kristýna Uhrová, Subdigital, 2020
Aggregation formal study, fabrication experiment. Our goal in Subdigital is not only the creation of an appealing render of unreal, digital geometries that stays within the borders of computer screens, but also to transform the digital results of our design to the real world, to bridge between digital and physical.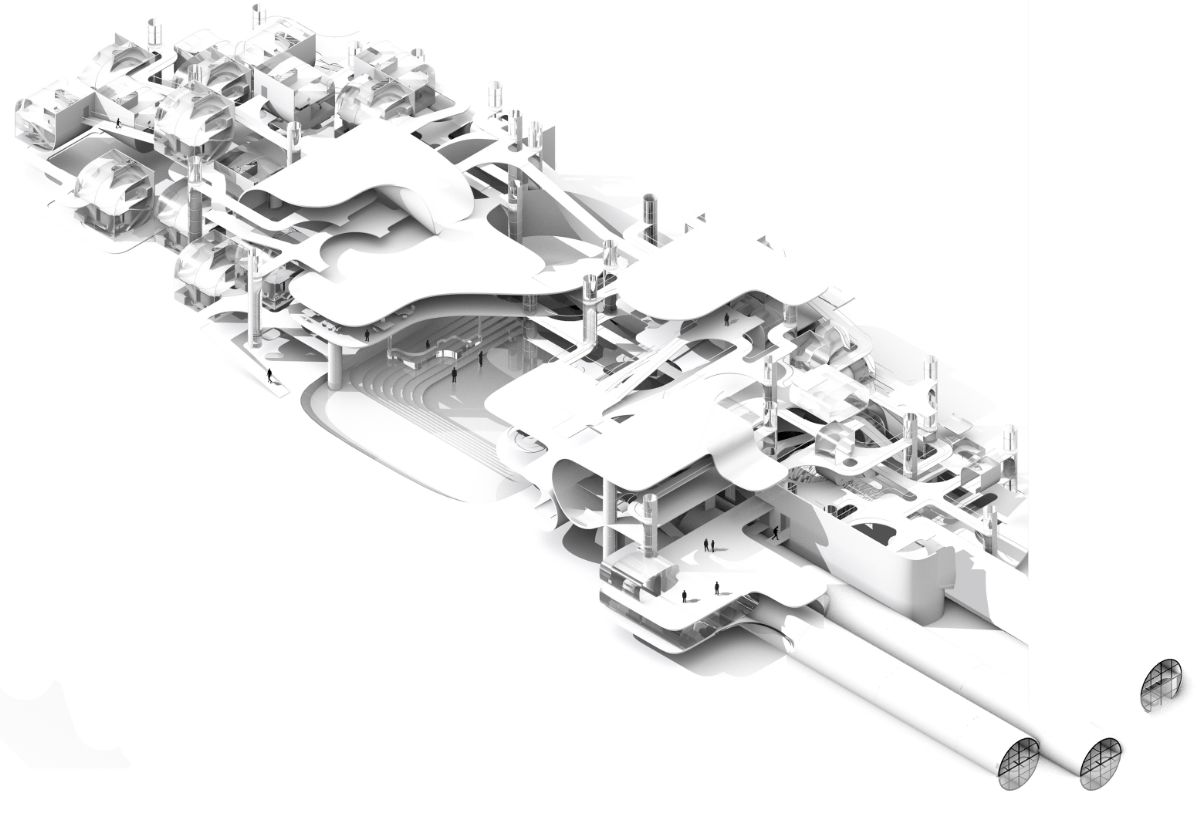 Hyperloop
by Eva Kvaššayová & Miriam Loescher, 2020
Cross-scale design of the campus / small-scale master planning consisting of various program types (in large scale) and separated networks of infrastructure assembled with various types of facilities and amenities (in a small scale).
Neons
by Kristýna Uhrová, Subdigital, 2020
Fixing an emergent aggregate of neon tube loops into a an intricate, yet fairly regular frame.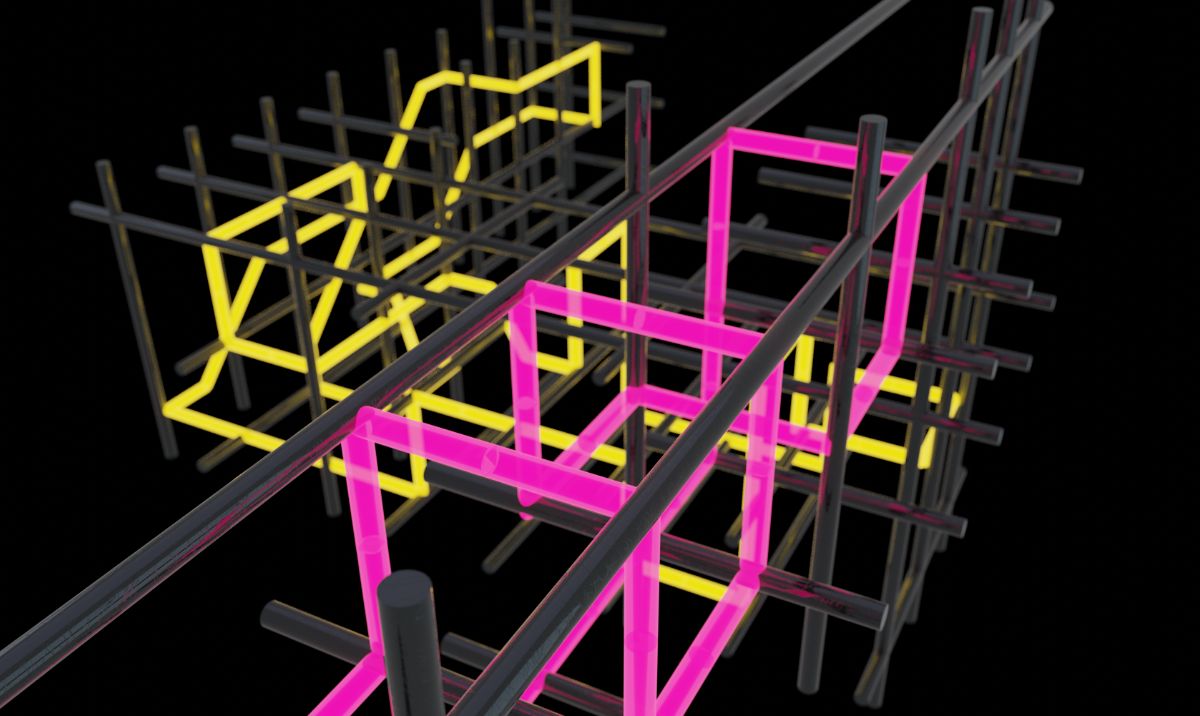 Hydrogen island
by Jiří Vítek, die Angewandte, 2021
The project hydrogen island has aim to develop strategies and methodologies for urbanization of the abandoned and forgotten landscapes using current technologies and focusing on topologies qualities, multiplicities and smooth and stripped spaces.
Lalalamp
by Ján Pernecký & Luba Ondrejkovičová, Subdigital, 2020
Is it possible to fill space with a branching system of closed pipes, that has a strong dynamic spatial orientation?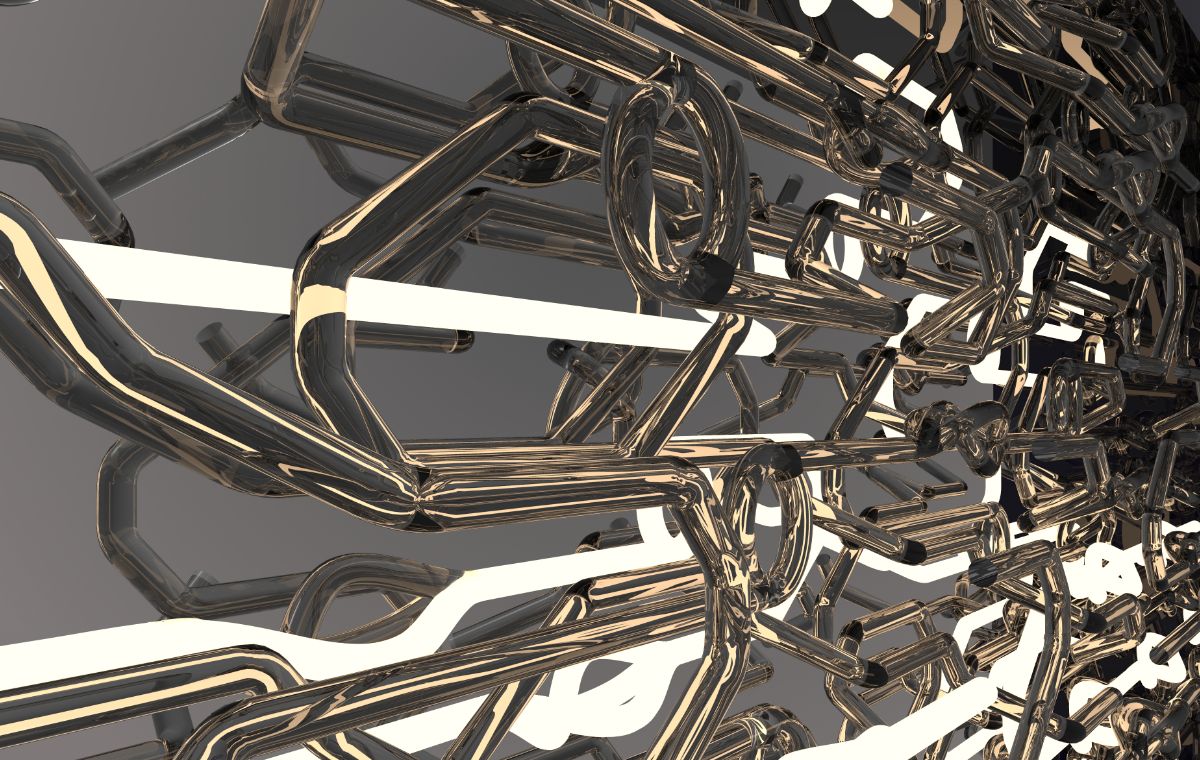 Housing
by Michaela Krpalová, Subdigital, 2020
The housing industry is battling overpopulation in cities, and pressure of global housing crisis.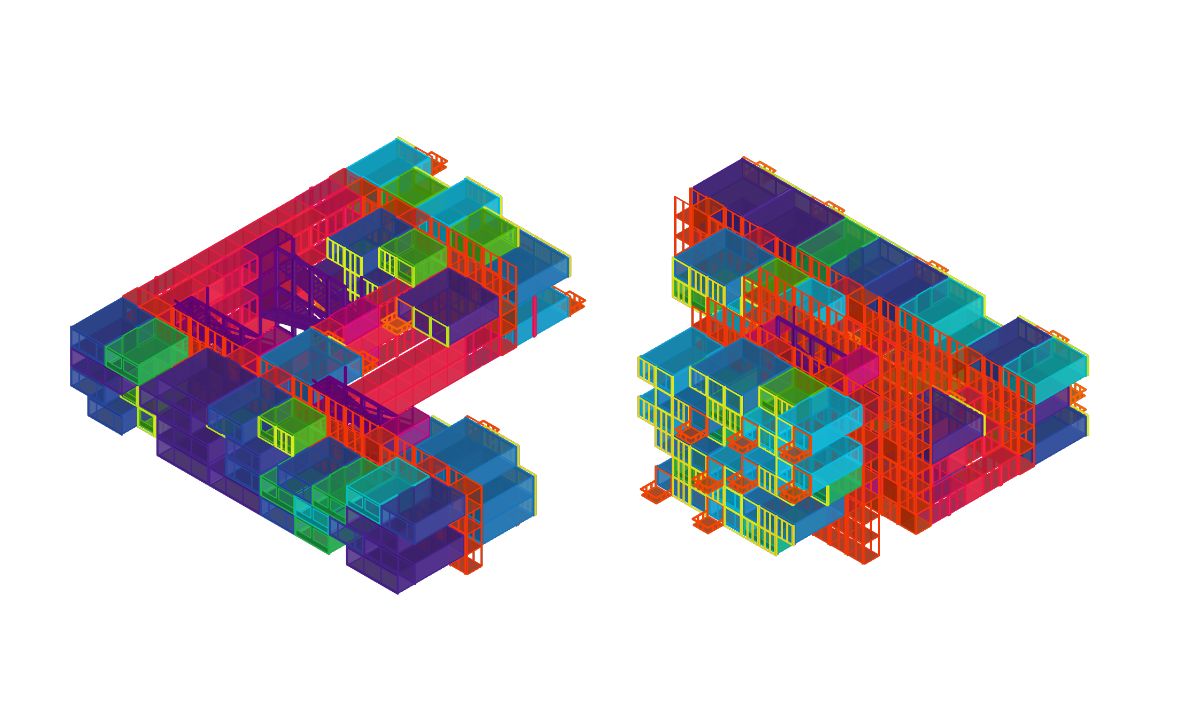 Pipes
by Ján Pernecký, Subdigital, 2020
A series of continuous winding pipes should entirely fill the given spatial envelope, each starting at its vertical top and ending at its vertical bottom.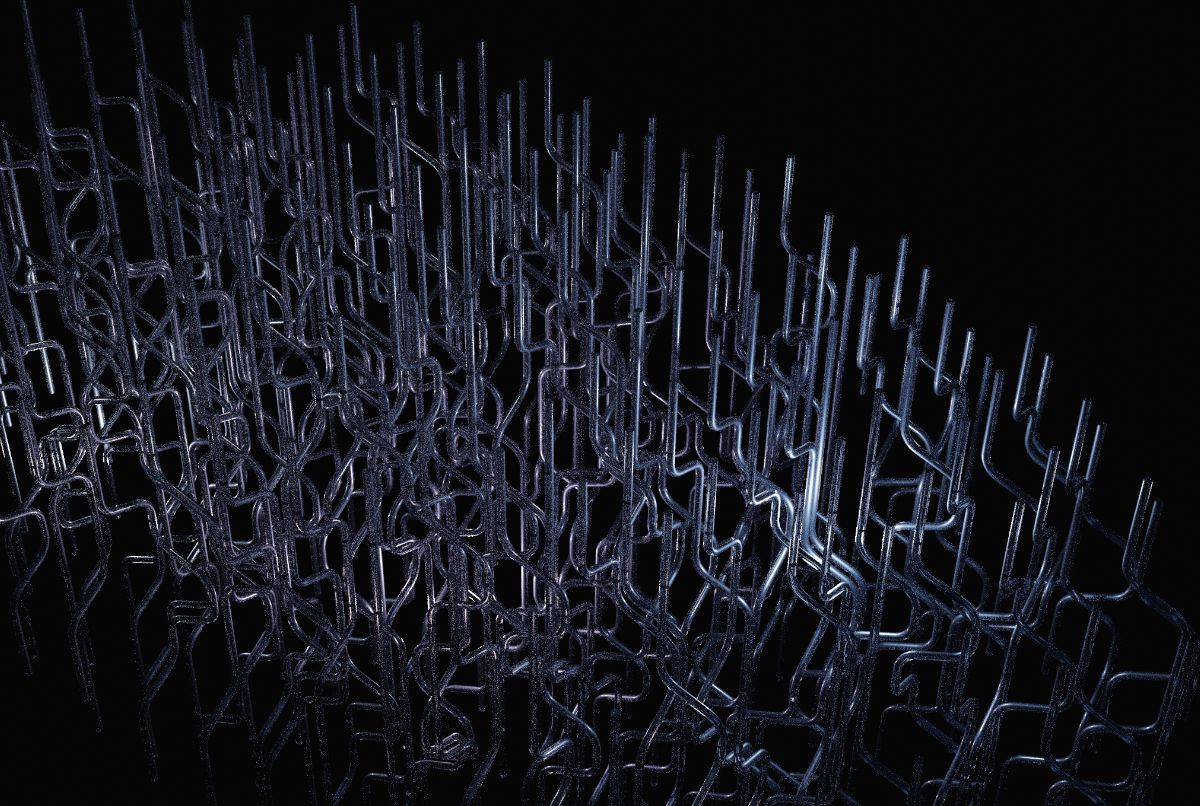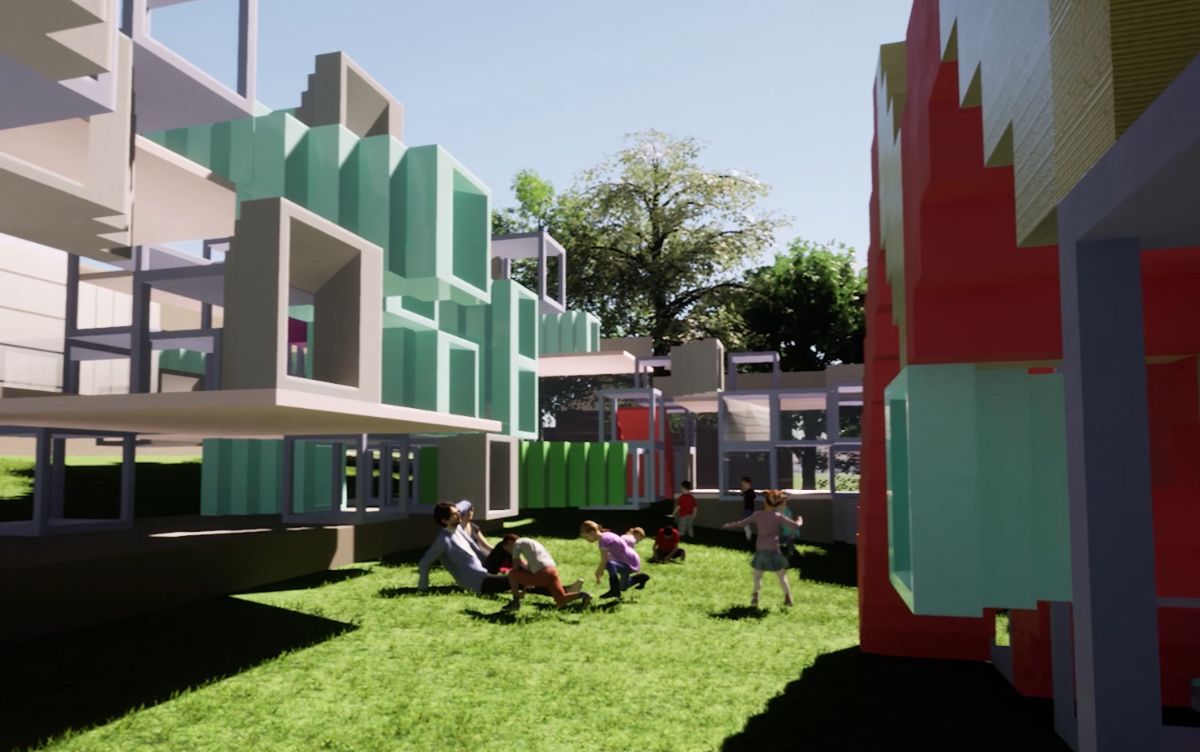 Playground
by Hugo Fekar, UMPRUM A3, 2020
This project challenges the flexibility of discrete assemblies we can generate with Monoceros. The aim was to create a diverse network of tunnels and stairs to become a playground for children.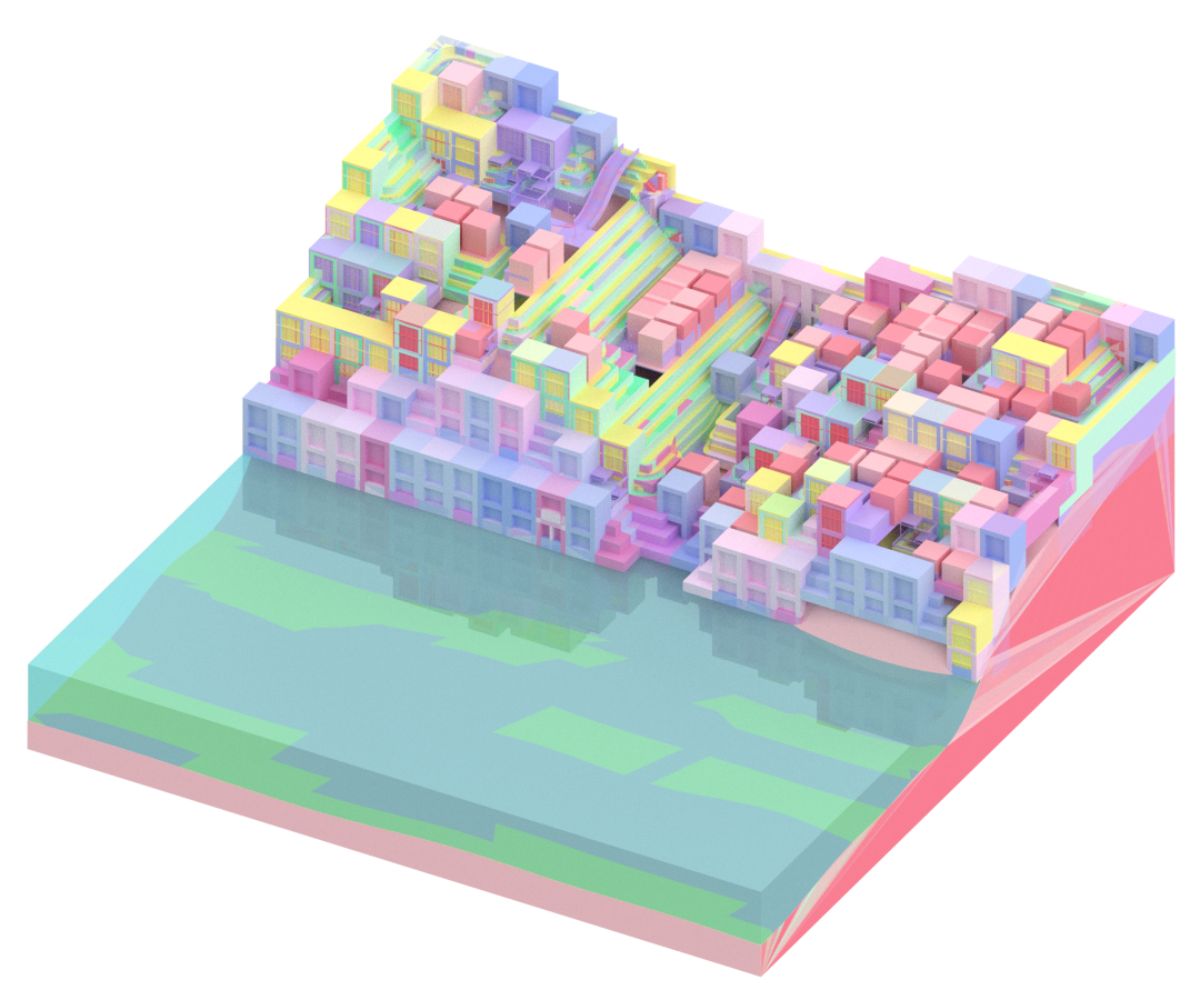 WFCity: Land
by Jakob Johannes Dostert, Studio Architecture III, UMPRUM 2020/2021
Project of the WFCity series, exploring urban and housing strategies via Monoceros. The Land scenario of the WFCity explores the possibility to cover as much as possible of a given landscape.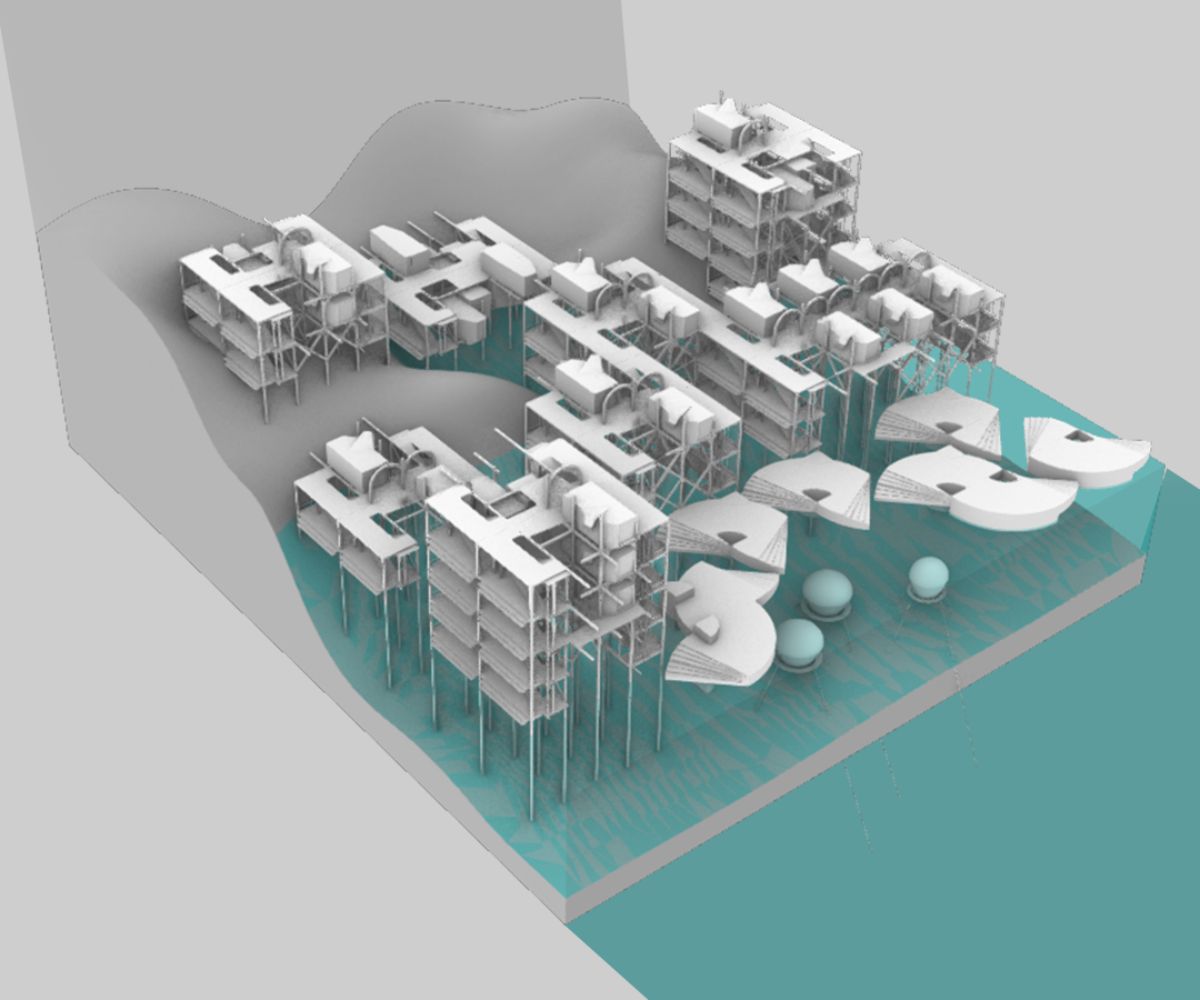 WFCity: Coast
by Adam Varga, Studio Architecture III, UMPRUM 2020/2021
Project of the WFCity series, exploring urban and housing strategies via Monoceros. Project Coast explored the border, the thin uncertain line in between water and land, where same building system needs to function in these two different environments.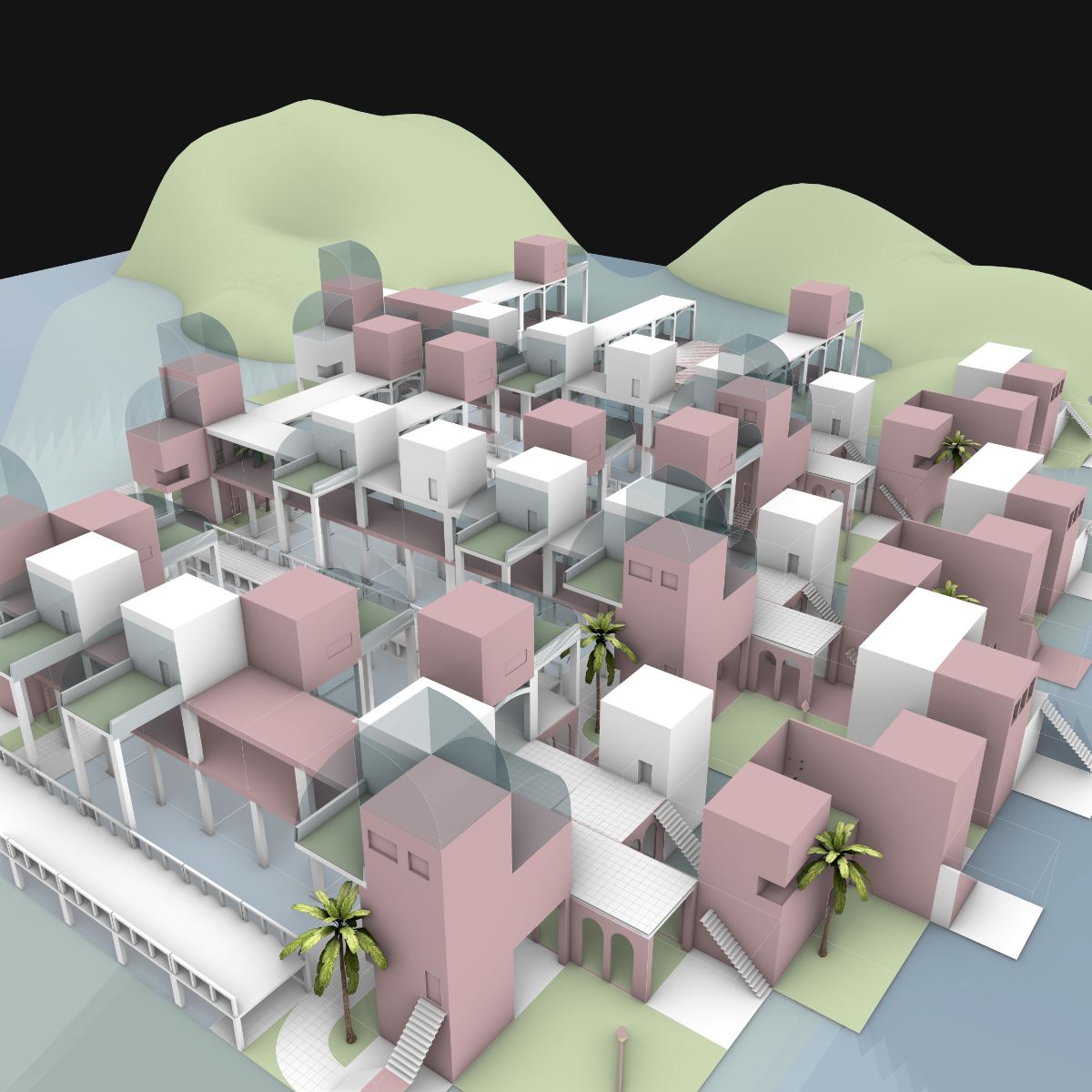 WFCity: Water
by Petra Sochůrková, Studio Architecture III, UMPRUM 2020/2021
Project of the WFCity series, exploring urban and housing strategies via Monoceros. This project explores possible housing typologies based entirely on water.
---